FROM THE PITLANE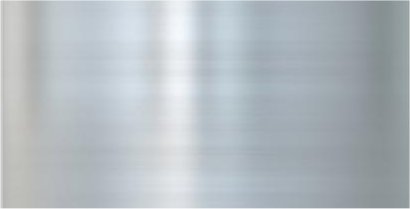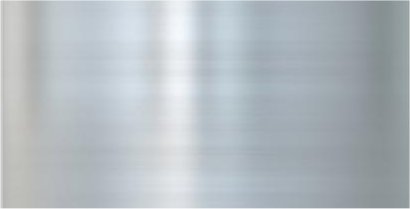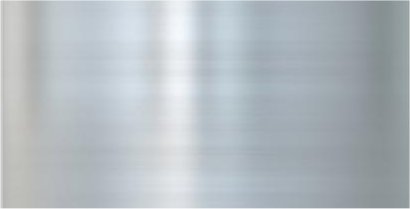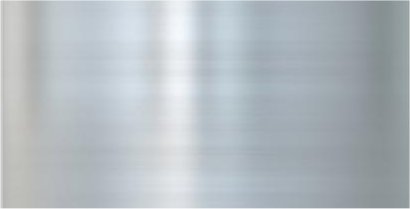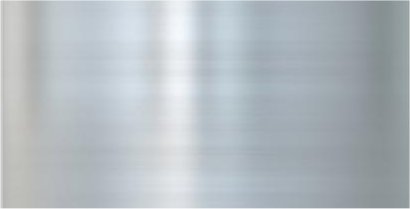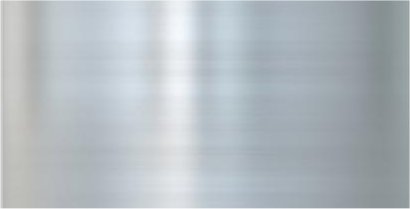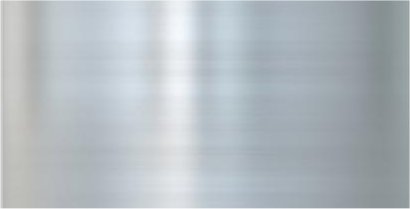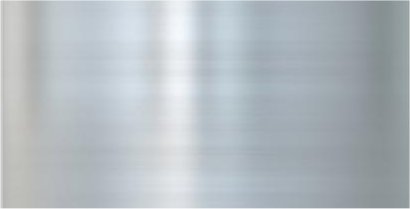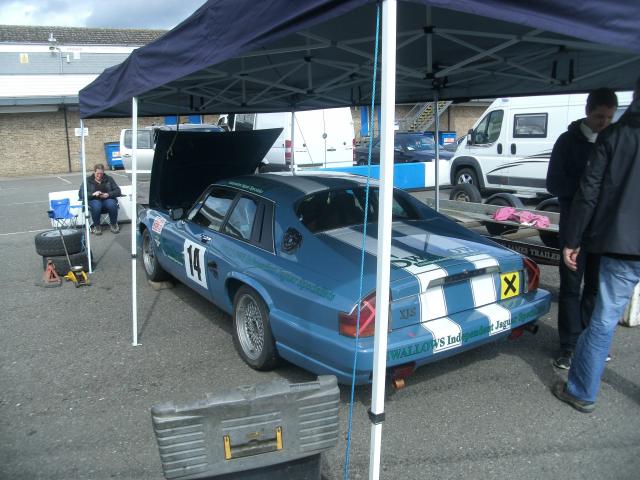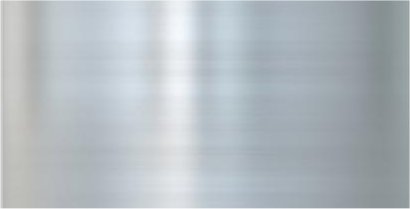 Our first, and last, trip of the year to a CSCC meeting took Bear in the Big Blue Truck to Donington. One car in the back only, a mid-season refurb to the Comer machine having fixed a number of "in the nick of time" problems of which the pilot knew nothing. Little things, like core plugs with holes in. But in the end Donington was all about establishing one thing; who is the biggest dog on the JEC grid?
We usually tune into TSL to check the results sheets, and Sam Clarke has been at the head of them, usually by a country mile. We've seen Ramm giving spirited chase, but the end result has never looked close at the flag despite early-race heroics. Rumours have been leaking out about this mythical car, reputed to be a serious piece of engineering, but this weekend was the first time we'd seen it in action. And we were curious.
We're curious because we run a 6-pot XJS. We're under a very different set of regulations, but that doesn't mean we don't look at laptimes and try to work out where we'd be. When we go testing, we measure ourselves against the fastest time anyone set, and given that's Clarke these days, he's our benchmark and we rejoice if we get under one of those laptimes. Apples and oranges it may be, but we like to indulge in a full fruit salad on occasion and you can't stop us.
But all year we've been asking another question. Where is Barclay? We've seen him put races in that left the field gasping in his dust in the way that Clarke is doing, but we've not seen them together. Current paddock feeling is that Clarke is unstoppable, but they said that about Barclay. You can't have two that are. Donington had both on the entry list, and the contest was on.
Not to forget, of course, Howard, and Ramm. The former was dominant only 18 months ago with that brutish XJ12, and my current nemesis in the CTCRC, the latter a multiple race winner but with a car that is, with the best will in the world, not at the cutting edge, technology and sheer cost in the front two are an order of magnitude higher. Give Rambo a wet race and it might be a bit different, was our feeling.
We've not done anything to move the Comer machine on for a couple of years. When we built it, it was meant to be as good as a Class A car could be, but a cheap and cheerful, very usable, robust entry-level racer. You might say that's clear from the damage she has taken and keeps coming back from. But Class A machines do appear to be moving on a bit, power and modifications are now at a level that wasn't apparent when I was campaigning Helen. There are now cars out with 50bhp more than I ever had, and there are things being done to them that I didn't know were allowed. Doors with all the inner frame cut away, bonnets and boots with the frames missing, dashboards with missing gloveboxes, all in the quest for weight. They used to pull us up and threaten exclusion if the armrest were missing from the centre console! Clearly we need to get back up to speed with the current rules, we had no idea you could go this far in the standard class.
Friday night arrival and unloading turned into a barbie and drinking session within 4 or 5 seconds of the engine stopping. Which did make Saturday scrutineering less than welcome. Somewhere in all this came the mistake which undid qualifying. To extract more tyre life, all Comer's tyres had been spun on the rims. That car headed out to qualify with the pressures as set by the tyre shop, driver assumed crew had done it, crew assumed driver would do it. When the car came back in with 48psi in every tyre it did explain the driver's feeling that something had not quite felt right.
Of course Philip has also not raced in several months, and hasn't tested, so the rust was thick, but Donington has always been his bogey track anyway and we weren't expecting pole. Being nearly last was not the plan though. Not being last despite those tyres did make us wonder about the people who were.
But the story was the front end of the grid. To us, it looked like Dave Howard was on a quest. He left assembly at full chat. The car looked, and sounded fast. And he resisted being overtaken, quite wisely he held station and made them overtake for it, which is precisely what I'd expect someone to do in his shoes. If they want to spoil their quali by racing, let them. Despite the weight penalty Howard carries he was no earlier on the brakes than anyone but Clarke. Clarke was massively late on the pedal, a clear 20 yards beyond anyone else's braking point. His rear brakes are bigger than my fronts. His fronts would buy you a semi-detached house in Barnsley. But you still have to stop the tyre, and what is impressive is that it can.
Barclay's car sounded off. Fast, but not quite right. XK engines sound different to AJ, but his usually sounds better than that. Turns out we were correct, because within minutes of quali the head was off that car and there was a mercy mission to base to get a valve swapped. Which made his laptime impressive given it was on 5 cylinders.
Nobody got near Clarke. He was 1.7 seconds faster than Howard. 1.7. That's like saying he was in a different series, it's only a couple of seconds shy of an M3. That said, all the laptimes were good, comparing the results not just of the Jags, but every series out there, compared to last season, suggests the track was giving up well over a second. A combination of conditions and surface, perhaps. The only relevance therefore was in relative terms, and in relative terms the race is already over, give Clarke the hat.
In addition, what is interesting to us, as now veterans of this series, is just how few of our old rivals are still here, and of their clear decline. Cast around the paddock for who was out at that first meeting of 2007 when we started, and you find Coppock senior, Comer, Webster, Boon. But that's all. All very experienced in multiple cars, all successful at various points, but none of them now challenging the front of their class. I suppose experience does eventually prioritise self-preservation, and the quest for raw pace gives way to one for simple enjoyment. You might measure a driver's priorities by his red wine intake, were you cynical.
Contrast that to Sam Clarke, whose (relative) inexperience is overwhelmed by fearless invulnerability. Utter confidence in his immortality would be on display in qualifying, when he would take to a track he has never driven, and was trying to overtake David Howard within 2 laps. The ability to take a sighter lap and then go for it immediately is available only to the young and bulletproof. Older hands who've taken a few knocks, had the car fail, paid the bills and nursed the bruises from it tend to be a little more circumspect and play it in.
And that is also clear in the lower order. Class A is the preserve of younger pilots now. MacGregor and Powderham are the front runner and pretender, respectively. Walker would be ahead of Bye for much of the weekend in a car that has an engine sounding a clear death rattle, indeed ahead of Coppock's far more potent V12. The youngsters, however, are all throwing it off the road a lot more, they just don't care as much. So after a year away, it's a different look to an old paddock.
Having passed Howard, Barclay does gradually gap him, and then the gap widened suddenly. It looked to us as if Howard had pushed the car for all he had to try and stay in touch, but simply run out of resources. We can't tell from here what, but heat management in those V12s, brake management trying to stop that leviathan on tiny calipers – he's running to historic-type regulations that require a 15" rim to fit – tyres going over temperature/pressure, any of them will only allow you to maintain that charge for so long. Our money was on the brakes. He actually does amazingly well to get that thing to stop like it does, it should be like slowing a supertanker.
Clarke fights back. Connew was no challenge, Frost doesn't take long, but all the while Barclay is leading and the laps to catch up tick by. Ramm falls after spirited defence, whilst Howard is unable to resist. Our diagnosis of his car needing a little rest seems to be confirmed. That puts Clarke back onto the tail chase, and he is able to catch Barclay, which we didn't think he was going to pull off. Having caught him and moved into range though, there are only about 2 laps remaining, and that's not much time to pass a car with that much speed in it.
We watch with interest, different approaches now required in attack and defence. Both are committed into the top of the Craners, cars sliding slightly. Clarke seems to take a dab of brake for the left hander, which most don't, but he's in outbraking range for the hairpin, which causes Barclay to defend and take a tight entry. Usually that would harm you and your exit would be ruined, but not here, he still carries exit speed and outruns Clarke up the hill. Whether that's by baulking the other car's exit, or a trick of the corner's camber we can't tell from here, only that it works.
As the last lap dawns, they pass Comer right at the end of the race, just as Clarke is trying for the last corner dive, but from much too far back. Round goes the XJS under braking, a 180 to a grinding halt at the flirtations of the gravel trap, and our silver and blue hero steams in to collect Clarke with a glancing blow that does for yet another front wing. Barclay takes the win. The biggest dog, for now, is XJ6. Clarke makes it home in 2ndfrom Ramm and Howard.
Of concern were two rear hub failures – MacGregor and Foster. One shed a wheel, the other didn't, but ground to a halt that would escape MSA scrutiny. It can only be so long before someone works out that the Jag hubs fail. The danger there is imposition of a ban on such cars until an engineering solution is found. It may sound far-fetched, but they did it to the Caterhams.
Our stocks are raided for a hub for the Fosters Law car, but we can't help MacGregor, he needs brakes and we can supply neither disc nor caliper. The paddock would ring to the sound of hammer on steel as Comer's wing was removed and battered back into a semblance of shape that cleared the tyre. Night fell, the fire glows, the wine flows, the ale is quaffed, for us a farewell to the Jaguar grid for another year after but one weekend.
So to race 2, and it's an interesting repeat with a different twist. Howard again uses raw power to make places, Barclay will hold lap 1 in the lead, but Howard will be second. Again the V12 wails as the car is pressed hard, and Barclay makes it easy by taking to the grass leaving the old hairpin, dropping to 4th. Howard takes the lead and runs, Clarke's XJS on the bootlid but unable to pass.
Again, the XJ12 seems to slow after a couple of laps, and Clarke took the lead, followed by the recovering Barclay, who had dispatched Ramm to sit 3rd. Once through, Barclay closed the gap to Clarke swiftly, which made no sense to us after yesterday's role reversal. Moreover, when he caught him, he was able to overtake, and by a little over half distance he was back in the lead. We couldn't quite work out even then how this came about, Clarke's advantage in qualifying had been so decisive that this outcome looked impossible.
A rolling start was a disappointment, but as they hove into view at Redgate it's Howard powering into the lead. Hit the brakes, and Clarke slides down the outside to get a nose ahead, totally different braking point, but overdoes it. Long, long oversteer through the entire corner, out wide onto the grass, a rooster of dirt thrown, and rejoins in 4th place. Howard gratefully powered into the lead, with Barclay on his bumper, Ramm in third. We switch attention to the rear of the grid, where the rolling start has denied Comer his usual demonic static start and the usual position bonanza that results.
As they flash down the Craners, Barclay's intent was clear, and the exit from the Old Hairpin gave him the run up the outside up the hill. Now, I didn't really think he was going to make that stick, XJ12 grunt should deny him, but he was able to hold station and go round the outside to claim the inside into the braking zone. I didn't know you could do that. You can. Interesting to know. Takes some power to do it though, I might buy some cams before I try that.
Clarke's after Ramm, who is a much tougher nut to crack than most, and despite the braking differences, he holds him off longer than I expected. Having made the move stick though, Clarke outbrakes himself at Redgate again, worse this time he shed yet more places, rejoins in 6th. To us, that one looks like a fatal error, even with a fast car you need time to pass 5 front-runners back again. When it's not your day, it just isn't. But he's straight back on the attack, no sign of his confidence being at all shaken, and the car continued to get angles on at the exit of this corner every lap.
Howard, Ramm, and Barclay close. Very close. It looked entertaining. At the other end of the grid, Comer's woes are explained by his tyres, Webster's less certain. By his own admission and confusion, his pace was off. The car put in a time equal to his old XJS, but as everyone had moved on a couple of seconds he'd tumbled down the order.
MacGregor headed class A, well up the order. Which is what the roadgoing class racer I still think I am likes to see. Stick it to the mod squad. Though his car is a bit too shiny, not quite "made in a shed" enough for my tastes. Barclay's repairs are completed as the cars are being called, he makes the grid by minutes.
These late season races tend to produce a bit of carnage, as championships are resolved and a few elbows get thrown, but Donington produced about the most entertaining race I've seen from the Jags in years. No real damage, some actual racing, and a great duel.
The usual spinners and dirt-throwers at Redgate, one big broadside moment right in front of the leader was very Days of Thunder, I don't know how Barclay could see where he was going, the green and black car punched through the cloud like a demon king in pantomime, I don't think I even heard a lift.
Howard's car fell prey to Ramm, even as Clarke gave chase on Barclay. Unlike yesterday's contest though, no late race dive on the brakes, a touch more circumspect in pursuit, and they would thunder across the line in that order. A smart man perhaps understands that winning them all is not necessary when there is a championship at stake, the big picture is important. Or perhaps Barclay was simply the faster package over the distance. In a brief snapshot of a season you can only know what you see.
Lower down the pack, Comer made places, then shed places again with an errant moment off the road, fighting back to finish a somewhat disappointed  6th in class. Contrast those fortunes to MacGregor's class win from the very back, and my suspicions about youth and commitment to the racing cause appears to be confirmed. There comes a point at which the racing becomes firmly a hobby, rather than an obsession, and you're in it for the sheer fun of circulating. Nothing wrong with that of course, the gentleman racer is a time-honoured tradition, you can't stop once you've smelled the track.
Pre-packed as we are, we're loaded and gone before the trophies can be handed out, our brief sojourn to JEC racing over already. An hour of M1 and back in the garage to our own projects and schemes. The question however, for us, was answered. Who's the biggest dog in JEC racing? Well, I'm not sure we will be saying it next season, but for now, it's Barclay.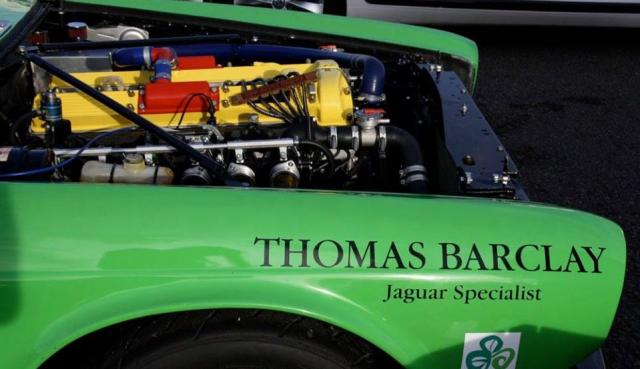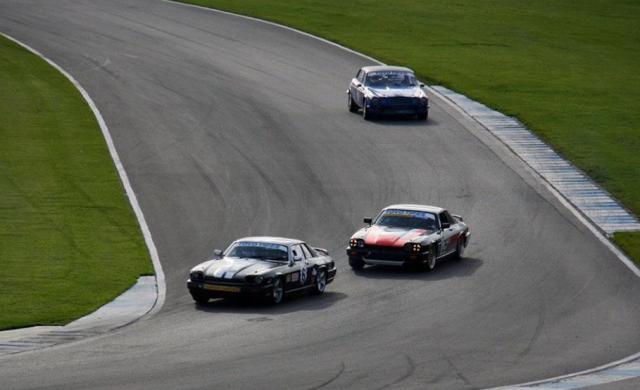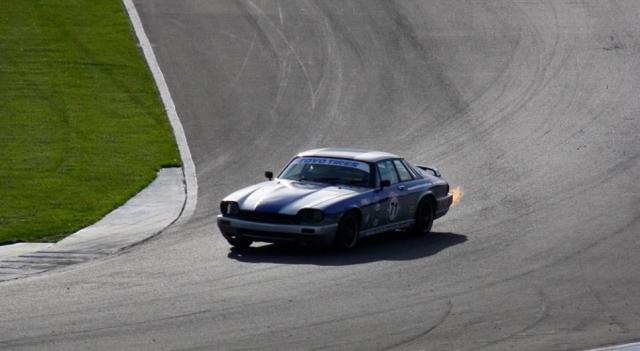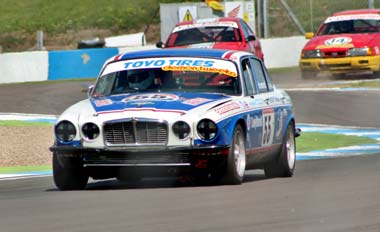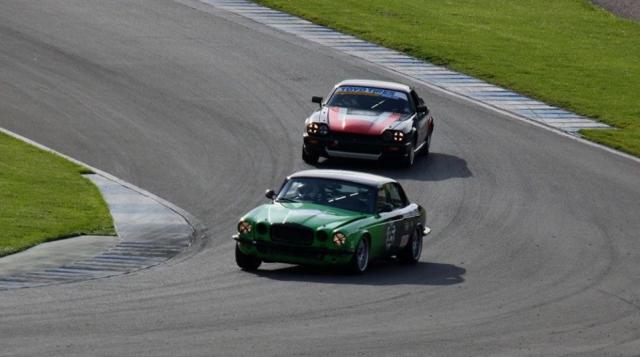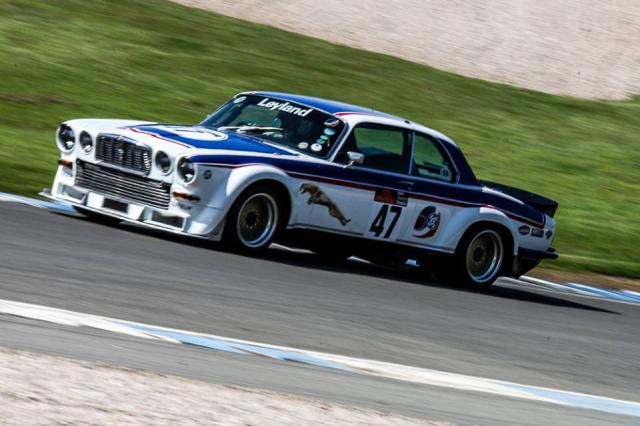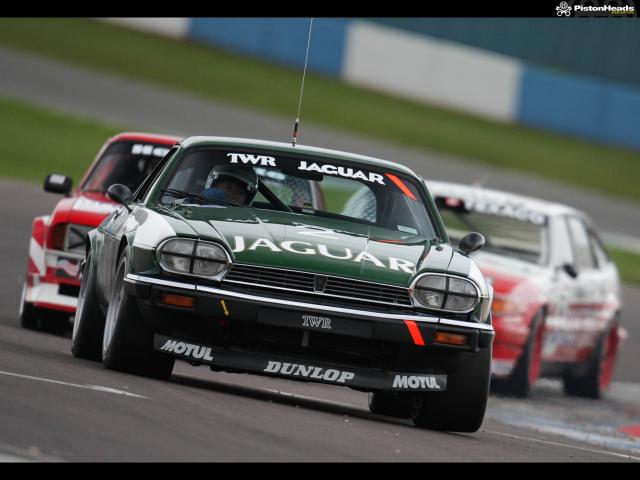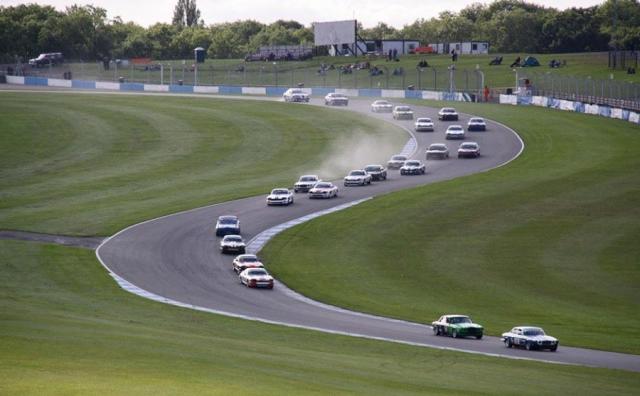 So clean and shiny he must be compensating for something.
The Comer spits fire. Again. We must look into that...
If you squint, it could be Dave Howard. It isn't. This car has nothing to do with the text you're reading. We just liked it.
Also unrelated to this meeting, a car pretending to be an XJS.
We didn't take any photos this meeting, so here's Dave at Donington. Wrong series...
Clarke recovers, assassinating Frost.
No idea who took this, it was on Google!
But wait, this looks like a paddock shot, you said you didn't take pictures? It is. From 2014.
The two biggest dogs fight for control of the yard. Late in race 1, Barclay holds off Clarke.
Race 1. Clarke dropped it at Redgate, Howard leads for about 10 more seconds...